GNC NATURAL E 400 (180 softgel capsules)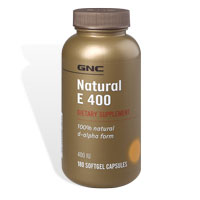 Special Price: Php 795.00/pc.
X Regular Price: Php 1,000.00
You Save: Php 205.00
Dietary supplement.
100% natural d-alpha form.
100% natural source Vitamin E.
No sugar, no starch, no artificial colors, no artificial flavors, no preservatives, sodium free, no wheat, no gluten, no corn, no dairy, yeast free.
Facts:
Supplement Facts
Serving Size:
One Capsule
Servings Per Container:
Amount per Serving
% Daily Value
Vitamin E as d-alpha Tocopheryl Acetate
400 IU
1333%
* Daily Value not established.
Directions:
As a dietary supplement, take one to two capsules daily.
Store in a cool, dry place.
Ingredients:
Other Ingredients, Gelatin, Soybean Oil, Glycerin

Twinlab B-100 Caps (250 Capsules)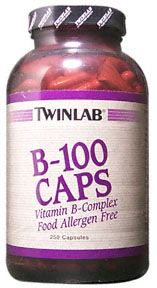 Our Price: Php 1,999.00
X Regular Price: Php 2,900.00
YOU SAVE: PHP 901.00
B-Complex helps maintain the health of nerves, skin, eyes, hair, mouth and healthy muscle tone in the gastrointestinal tract. B vitamins are co-enzymes involved in energy production, useful for stress, depression and anxiety.

Twinlab B-100 caps provide a high potency synergistic combination of B-vitamins. Twinlab B-100 caps are easier to swallow and assimilate. Well tolerated by most highly allergic individuals.
Recommendations: As a dietary supplement, one or more capsules daily with meals.
Ingredients:
Serving Size 1 Capsule
Amount Per Tablet %DV
+ Daily Value not established

Thiamin (thiamin mononitrate) 100 mg 6666%
Vitamin B2 100 mg 5882%
Niacin (from niacinamide) 100 mg 500%
Vitamin B6 100 mg 5000%
Folic acid 400 mcg 1666%
Vitamin B12 100 mcg 1666%
Biotin 100 mcg 33%
Pantothenic Acid 100 mg 1000%
Choline bitartrate 100 mg +
Inositol 100 mg +
PABA 100 mg +

Other Ingredients: Gelatin, purified Water, Magnesium Stearate, MCT, Silica, Crospovidone.
Safety Info: No tablet binders, coatings or colorings. Free of the most common allergens such as fish, corn, soy, yeast, barley, rice, wheat, lactose (milk sugar) and all milk and egg products. No added flavorings, sugars, salt, artificial sweeteners, colorings or preservatives.