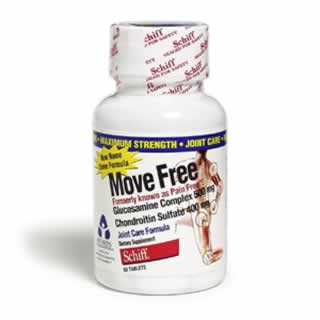 SPECIAL PRICE: Php 1,000.00
Regular Price: Php 1,500.00
You Save: Php 500.00
Schiff Move Free (60 caps)
Each tablet of Move FreeŽ combines 500mg of Glucosamine complex with 400mg of Chondroitin Sulfates, the serving recommended by researchers. Glucosamine and Chondroitin help to rebuild cartilage and maintain structural integrity of joints and connective tissue.* Glucosamine is a building block for joint fluid, cartilage, tendons, ligaments, membranes and blood vessels.* Chondroitin Sulfates protect the structural integrity of joints and blood vessels.* Studies have shown that glucosamine supplements and chondroitin supplements can each relieve arthritis pain and stiffness without the side effects of conventional analgesics. While the supplements work more slowly than standard medications, they produce longer-lasting relief. More important, some research suggests that glucosamine may slow the progression of the underlying disease. The best evidence of that possible benefit comes from a Belgian clinical trial published last year in The Lancet, a respected British medical journal. It found that glucosamine may reduce the incidence of serious progression by about 50 percent. That finding convinced the Arthritis Foundation, the leading nonprofit information and advocacy group for people with arthritis, to issue a statement last June calling the supplement "an appropriate treatment" for osteoarthritis.
* Glucosamine is anti-inflammatory; enhance joint repair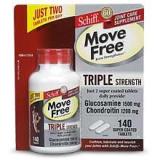 OUR PRICE: Php 1,850.00
Reg. Price: Php 2,500.00
You Save: Php 650.00
Schiff Move Free Triple Strength (140 Tabs)

Now you can get all of the benefits of Schiff Move Free in just two super coated tablets per day.

Schiff Move Free Triple Strength provides the joint health benefits of Glucosamine and Chondroitin in easy-to-swallow tablets. Unlike pain relievers that only offer temporary relief, Glucosamine and Chondroitin (the ingredients in Schiff Move Free), promote long term joint health.

Glucosamine is a basic building block of joint cartilage, which helps to maintain structural integrity of joints and connective tissues.

Chondroitin is a naturally occurring nutrient found in connective tissue. It is capable of binding molecules to lubricate, cushion and support joints.

These statements have not been evaluated by the Food and Drug Administration. This product is not intended to diagnose, treat, cure, or prevent any disease.

Directions:
For best results take two (2) tablets all at once with a meal or one (1) tablet twice daily with meals.

Reminder:
Like most dietary supplements, Schiff Move Free Triple Strength works gradually to promote joint health and mobility. Allow 4 - 8 weeks of daily use before expecting noticeable results. To get the maximum benefits from Move Free, it should be taken consistently over time.

Supplement Facts:
Serving Size: Two (2) Tablets
Servings Per Container: 70
Amount Per Serving - % Daily Value:
Sodium 100 mg - 4%,
Glucosamine Hydrochloride 1.5 g (1,500 mg) - *,
Chondroitin Sulfate 1.2 g (1,200 mg) - *.


*Daily Value not established.

Other Ingredients:
Cellulose, Coating (titanium dioxide, polydextrose, hydroxypropyl methylcellulose, triacetin, polyethylene glycol, sodium carboxymethylcellulose, dextrin, dextrose, maltodextrin, glycerin, lecithin and sodium citrate), Copolyvidone, Silicon Dioxide, Magnesium Stearate and Potassium Chloride.

Guaranteed:
No added sugar (sucrose, fructose, lactose), salt (sodium chloride), yeast, wheat, gluten or milk. No preservatives or artificial flavors. Guaranteed for purity, freshness and labeled potency.

Note: If pregnant, lactating or on prescribed medication, consult your physician before using.


Our Price: Php 1,200.00
X Regular Price: Php 1,600.00
You Save: Php 400.00
KYOLIC-EPA (90 capsules)
An Ideal combination of deodorized fish oil concentrate and odorless Aged Garlic Extract.
Supports Cardiovascular Health.
Rich source of EPA (eicosapentaenoic acid) and DHA (docosahexaenoic acid)
Free of dairy, sodium and yeast.
*Fish oil provides essential fatty acids; optimize hormone production; enhance joint repair; muscle growth.