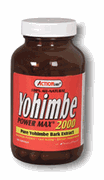 Our Price: Php 2,200.00
Reg. Price: Php 2.900.00
You Save: Php 700.00
Action Labs Yohimbe Power Max 2000 (100 Capsules)

Yohimbe Power Max 2000. Pure Yohimbe Bark Extract. 100% All-Natural. Maximum Potency. Fast Acting. Dietary Supplement, With NutraFlora. Yohimbe Power Max 2000 is one of the most patent sources of Yohimbe Bark Extract available today. For ultimate power and performance, this is the ideal formula. Yohimbe (Coryanthe Yohimbe) is a sexual stimulant to men and increases libido in women. Yohimbe stimulates erectile tissue in both sexes, and enhances sexual sensitivity, arousal and orgasm, increase sperm production, motility and increases blood flow to erectile tissue.
Directions:
As A Dietary Supplement, Take Two Capsules Daily, Preferably With A Meal.
Cautions: Store in a cool, dry place. Keep out of reach of children. Contraindicated in existing liver and kidney diseases and in chronic inflammation of the prostate gland or for individuals who suffer from hypertension; not recommended for long term use; seek advice from a health care practitioner prior to use if you are taking an MAO-inhibitor (including tyramines), or if you have any heart conditions or other medical conditions. Do not exceed recommended dosage. Not intended for use buy persons under the age of 18 or for pregnant or lactating women.

Serving Size: 2 Capsule. Servings Per Container: 25. Amount Per Serving: Yohimbe Bark Extract Complex (Yohimbe Bark & Yohimbe Bark Extract) - 2000mg. Other Ingredients: Gelatin (Capsule); Magnesium Stearate; FOS (Fructooligosaccharides); NutraFlora; Maltodextrin.


Our Price: Php 1,200.00
Reg. Price: Php 1,800.00
You Save: Php 600.00
Pinnacle Horny Goat Weed (60 caps)
Horny Goat Weed is an all-natural botanical sexual enhancer. It is a botanical complex that contains Horny Goat Weed (yes that is the name of the herb), Maca, L-Dopa and other exotic botanicals.
Horny Goat Weed's combination of botanical ingredients, namely Horny Goat Weed, Maca, Mucuna pruriens and Polypodium vulgare may enhance sexual performance through a variety of mechanisms such as increased testosterone production, increased energy and increased sexual hormone production. Many of the herbs contained in Horny Goat Weed have been used in traditional botanical medicine in China, South America and Ayruveda.
Horny Goat Weed痴 aphrodisiac effects has been verified in both animal and human research. Mice treated with a Horny Goat Weed preparation produced "apparent effects on the improvement of sexuality." It was also shown to improve sperm producing capability. Since Horny Goat Weed has been traditionally used for kidney disease, it's interesting that research has demonstrated a sexual potentiation effect and improved quality of life in patients with chronic renal failure who were given Horny Goat Weed.
Pinnacle Horny Goat Weed may not sound serious, but in reality, it could provide a serious boost to those who need it. An all-natural phyto-aphrodisiac, it's based on the latest scientific research into male performance and well-being. Each safe, highly potent capsule contains a unique and powerful complex of herbs formulated to support libido and sexual activity through a variety of mechanisms. These herbs include Horny Goat Weed, Maca Pure, Macuna pruriens, and Polypodium vulgare, which in combination, can help support higher performance in and out of the gym.
It is a robust all-natural stimulant that can support a more robust life as well as love-life.
Amount Per Serving:

Horny Goat Weed (Epimedium grandiflorum) 500 mg
(Standardized 10% icariin)
Maca Pure (Lepidium meyenii) 250 mg
(Standardized 0.6% macamides & macaenes)
Macuna pruriens 33.3 mg
(Standardized 15% l-dopa)
Polypodium vulgare 25 mg
(Standardized 8% 20-hydroxyecdysone)

Other Ingredients:
Calcium Phosphate, Magnesium Stearate, Gelatin.

Directions:
As a dietary supplement, take two (2) capsules daily with a meal. For a more immediate response take three (3) to four (4) capsules 90 minutes before activity.